Teaching Assistant, Spanish; Graduate Student in Spanish & Portuguese Studies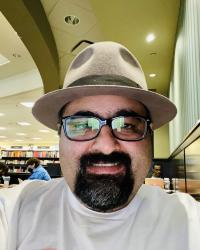 Contact Information
Office Hours:
By appointment. You can send me an email to make an appointment.
Biography
M.A., Spanish Literature, Washington State University, 2015
B.A., Spanish Literature, University of Washington, 2009
Khosro Raúl Soleimani is a doctoral student and a Predoctoral Instructor. He has been teaching college-level Spanish since 2009 (first at WSU and now at the UW). His interests include poetry, poetics, and the biographies of poets. He is currently working on the bibliography for his dissertation, an exploration of Francisco de Quevedo's life and poetry. During 2017 (winter and spring), Raúl was the recipient of the Top Scholar Award. 
Raúl incorporates the study of poetry in his classes (whenever possible). His philosophy of education can be summarized in one word: compassion. He believes his students deserve to grow, and he also believes learning happens more effectively in a positive and welcoming environment.