Assistant Professor, Spanish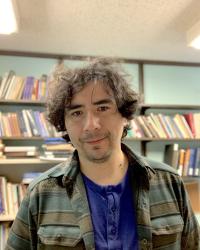 Biography
Ph.D., Hispanic Literature, El Colegio de México.
M.A., Hispanic Literature, El Colegio de México / Latin American Cultural Studies, Universidad de Chile
B.A., Hispanic Literature, Universidad de Chile
José Francisco Robles is an Assistant Professor of Spanish at the University of Washington. He earned a B.A. in Hispanic Literature and an M.A. in Latin American Cultural Studies at the University of Chile, as well as a Ph.D. in Hispanic Literature at El Colegio de México in 2012. His research interests include science, race, philosophy, and literature in Colonial Latin America, and the relationship between literary production and knowledge in the seventeenth and eighteenth centuries. He has published articles in academic journals and book chapters in the United States and Latin America.
His first book, entitled Polemics, Literature, and Knowledge in Eighteenth-Century Mexico, is the first study to comprehensively analyze the configuration of the idea of the Republic of Letters in an eighteenth-century Latin American country.
Taking a multisided approach to Mexican culture of the era, this book's analysis of literary texts engages with an exploration of such concepts as the Republic of Letters and the archive, as well as their connections to transatlantic polemics on knowledge production in the New World and debates on philosophical systems of learning. It furthermore draws upon the history of science in Mexico in order to trace the development of scientific thought and its influence on culture, religion, and fiction. This study proposes that eighteenth-century Mexican writers sought to establish a place within a global scholarly community for their local literary republic through the formation of scholarly networks, the historical exploration of the past and present, and the creation of new epistemological approaches to literary production inspired by Enlightenment ideas.
Polemics, Literature, and Knowledge in Eighteenth-Century Mexico: A New World for the Republic of Letters is the winner of the 2022 Louis Gottschalk Prize for the best scholarly book on an eighteenth-century subject. This prize is awarded by the American Society for Eighteenth-Century Studies (ASECS). 
Read the Table of Contents here