Submitted by
Arts & Sciences Web Team
on December 5, 2012 - 2:00am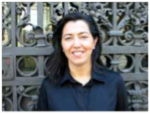 Ana Gómez Bravo, the newest faculty member of the Spanish and Portuguese Studies Department, comes to us from a 19-year tenure at Purdue University in Indiana. Born in Madrid, she received both her BA in Spanish Literature and Linguistics and her MA in Medieval Spanish Literature from the Universidad Autónoma de Madrid. Her Ph.D. in Medieval Spanish Literature is from UC Berkeley.
Gómez Bravo specializes in 15th century poetry. "Understanding the cultural context of the time a poem was written not only enhances the meaning and enjoyment of the poem for the present day reader," explained Bravo, "but also shows how the people of the time functioned." Material culture, the objects of everyday life such as food and writing materials, are essential to learning about a time period, she said. "Material things, culture and language are interrelated," said Gómez Bravo.
Her enthusiasm for her subject causes Gómez Bravo's eyes to light up and her words to flow rapidly. "Poetry at that time was a common currency," she explained. "For example, a thank you note for something as simple as a jar of quince jam was usually written as a short, witty poem. Much like texting or Facebook today, poetry in the 15th century was an investment of time in a person's self-representation," said Gómez Bravo. "It was the 15th century's version of social networking."
Gómez Bravo's first book, Repertorio métrico de la poesía cancioneril castellana del siglo XV, is a metric analysis of 15th century poetry. Her second book, Textual Agency: Written Culture and Social Practice in Fifteenth-Century Spain, soon to be published, focuses on the life of a poem and takes a close look at 15th century writing, culture and social networking.
Gómez Bravo, an accomplished cook, unapologetically admits to owning hundreds of cookbooks. "When we were moving," she explained, "I purged a lot of books, but all the cookbooks came with me." She reads cookbooks like novels from cover to cover. "You never get rid of a cookbook," she laughed. Self-described as sensory oriented, Gómez Bravo believes that "cooking expands our knowledge about and respect for food, including how to avoid waste, which is good for farmers and, well, good for everyone."
While researching both of her published books, Gómez Bravo discovered abundant references to food, which caught her attention from both a personal and professional standpoint. Particularly in the Inquisitorial records, there was an obsession with what people ate, ingredients used in preparation and even who was present during consumption. Initially a way to ascertain whether converted Jews or Muslims were still adhering to their former dietary laws, these methods slowly made their way into the cultural cooking of Spain and Mexico. "Food consumption morphed into an understanding of racial and ethnic differences," explained Gómez Bravo. This discovery led to pursuit of her other specialty: Nutrition, writing and culture: the bio-cultural understanding of ethnic difference in which she completed a one-year fellowship while at Purdue.
Currently in the works is a novel, which she describes as a contemporary historical mystery, set in Madrid and Seattle. "I started the book last summer when I was directing Purdue's study abroad program in Madrid," explained Gómez Bravo. "The group I led enabled me to see my home city through the eyes of outsiders while simultaneously giving them my insider's view. It was an incredible experience and inspired me to start the novel."
Gómez Bravo is excited to be part of a department that is focused on Spanish and Portuguese language and culture, offering an opportunity to teach in-depth, interesting classes. "The people I have met so far are professionals to the core, collegial and generous." Gómez Bravo is eager to work with the division's study abroad programs and visited the León Center in Spain last summer. "The infrastructure of the department's study abroad programs, having established physical locations in numerous countries, is great," she said.
Ana Gómez Bravo, her husband, and their three children (ages 10, 14 and 17), are delighted to be in Seattle and at the UW. "We keep pinching ourselves to make sure it's true!"
The feeling is mutual. "I'm delighted to have Ana join our department," said Anthony Geist, Professor of Spanish and Comparative Literature and Chair of Spanish and Portuguese. "With the impending retirement of Suzy Petersen she not only keeps alive a long and distinguished tradition of Spanish Medieval Studies, but also opens new avenues of scholarship in the fields of material culture and food and culture."