Early Fall Start for Advanced or Heritage Students with an Interest in Business
Application Deadline Extended!  Apply Today for this Program!

Program Description
The Business and Cultural Dynamics in Spain program is aimed to provide an excellent opportunity for the University of Washington students to better understand Western Europe's economic reality by studying and exploring the fourth largest economy of the Eurozone: Spain.
This program is designed to meet the needs of students wanting a significant and meaningful business-related program in Spain while improving their Spanish language skills. It is geared towards students who have diverse backgrounds ranging from International Business Majors with Spanish Minors, Spanish Majors or other interdisciplinary majors with previous advanced knowledge of Spanish. Students will have the opportunity to develop world travel experience and people skills that are essential to working in the field of international businesses. Spanish is one of the three most spoken languages in the world and many companies are now eagerly looking for Spanish speakers to be part of their employment force.

At its core, Spain is a services economy and this seminar will offer the students the possibility to explore key economic areas such as retail, winery, telecommunications, vehicle production, sports, E-learning, cybersecurity, and tourism, as well as immerse themselves in the cultural vibe and routine of local Spaniards. Students will enjoy day trips to symbolic cities such as Toledo and Segovia (both are named World Heritage Sites by UNESCO for their extensive cultural and historical significance).

This Exploration Seminar will take place in two of the most economically vibrant cities of Spain, Madrid and Valladolid, giving students a unique international business experience combined with rich cultural experiences.

VALLADOLID:
Valladolid is the capital of the autonomous community of Castile and León. With over 300.000 inhabitants and strategically located in a commercial corridor, Valladolid is Spain's 13th most populous municipality and northwestern Spain's biggest city. Beautifully maintained, the city has an ancient old historic center comprised of palaces, churches and noble houses along with new avenues and a vibrant flourishing economy. Valladolid's privileged location at the confluence of the Pisuerga and Esgueva rivers makes it one of the world's largest wine producers formed by five winegrowing regions: Ribera del Duero, Rueda, Toro, Tierra de León, and Cigales. The city is also well-known for the Renault Valladolid Factory, a car plant operative since 1951 that has evolved into a grouping of several plants clustered together on a 150-hectare site producing more than 250,000 vehicles and 1,5000,000 engines in 2015.

Based in La Fundación de la Lengua Española's facilities, the classes will focus on daily morning sessions and talks by winery businessmen, economists, company managers, consultants and ELE instructors who will offer an in-depth analysis of the economy from different businesses perspectives. Students will also learn the oral and written vocabulary of Spanish business etiquette.

As a complement to the classroom sessions, students will visit the offices of El Corte Inglés, the largest department store in Spain, Iveco's truck production and assembly plant, as well as a field trip to a cister monastery and a visit to Hiriat winery in Fuensaldaña. All presentations and company tours will be taught in Spanish and there will be a case study aimed at getting students more familiar with the economic landscape of the business sectors analyzed.

As part of a full cultural immersion, afternoon visits to emblematic places such as Sculpture National Museum, Miguel de Cervantes's house-museum or Science museum will follow. The program also includes a tapas night and a day trip to Segovia.
Home stays and transportation to and from the field trips and day trips are included in this week´s program in Valladolid from 7 September to 14 September 2019.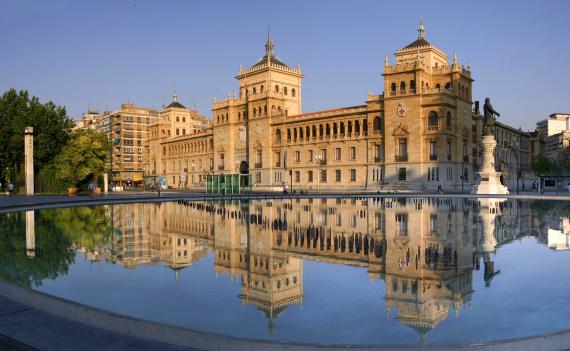 MADRID:
From 24 August to 7 September 2019, UW students will stay in metropolitan Madrid, the capital and geographic center of Spain. With a population close to 6.5 million inhabitants and considered the main business center in Spain, it has an average income per capita of more than 33,000 Euros and the city derives 85% of its economy from the services industry. The region has the highest number of businesses in Spain (more than 500,000 companies in operation). One out of every five businesses created in Spain is based in the city of Madrid. In addition, 72% of the top 2,000 companies in Spain are based in Madrid.

The region´s higher education training network comprises 16 universities (7 public and 9 private), which supply businesses with around 40,000 graduates a year.

During these two weeks, students will meet in a space of innovation (HUB Impact), where they will learn about the history, economics, social and cultural norms as well as how business is conducted in Spain. The lineup of speakers include consultants, law graduates, Instituto de Empresa MBA´s, general managers and school of business´ professors who will discuss the Spanish economic collapse and the steps the country is taking to remedy the situation.

Based in a mixed methodology, this seminar will combine the classroom sessions with company visits related to sectors as varied as tourism, sports, E-learning and cybersecurity.


Location
Valladolid and Madrid, Spain
Sites
Segovia, Toledo
Housing
In Valladolid, students will enjoy Home-stays accommodations. In Madrid, students will stay at downtown university dorms, in individual rooms and with full board accommodation.
Academics
Prerequisites/Language Requirements
This program is geared towards undergraduate students who have interest in improving their Spanish language skills in a business field as well as attracted to Spain´s culture and customs.

Prerequisite: ideally SPAN 301/314 and up.

This program will take place in large, vibrant cities. No excessive amounts of walking or trekking will be required while staying together with the group. A bus/underground or appropriate method of transit will be taken for all cultural and field trips as well as company visits.
Credits
5 Credits
UPDATED – STUDY ABROAD POLICY
Students can take a maximum of 15 credits towards the major in Spanish, a maximum of 12 credits towards the minor in Spanish, and 10 credits in Spanish for General Studies credit, through study abroad program.
Courses
SPAN 393 or IBUS 490 (5 credits)
The ¨Business and Cultural Dynamics in Spain¨ course offers students a unique, on site, opportunity to understand the macroeconomic reality in Spain, the fourth largest economy in the Eurozone. During three weeks students will not only get a macroeconomic vision of Spain but they will also familiarize with the Spanish corporate structures, as well as managerial procedures and customs in business in Spain.

Students will learn about business in multiple sectors, experience another culture, and network with students, faculty, and professionals from various and diverse companies in Valladolid and Madrid, two lively cities in the country.

The program builds on UW´s vision to promote cultural interchange of ideas by providing students with an immersion opportunity aimed at obtaining a greater understanding of cross-cultural trade and business practices in Spanish.

Learning Goals: 
1. Help students improve their own critical communication skills in Spanish and explore how those skills can be best applied in business situations. Students will learn best practices to improve their vocabulary and writing skills on everyday business communications as well as the oral skills that they will put into practice through constant contact with native speakers and effective presentations in class.

2. Introduce students to the fourth largest economy in the Eurozone, Spain. The objective is to provide students with greater insights into the sectors and policies that are shaping Spanish economic reality and to engage students in an evaluation of these policies and sectors using the case method to review real corporate situations.
Company visits that will complement the classroom instruction will include sectors such as winery, vehicle production, sports, cybersecurity, retail and E-learning. At the end of the course students will:
Familiarize with the Spanish corporate structure: typology of the companies, management level, emerging markets.
Develop a great understanding of the fundamentals of the Spanish economy.
Obtain key insights about the most representative business sectors in Spain.
Understand regular managerial procedures and customs in Spain.
3) Immerse in cultural vibe and routine of Spaniards and enjoy day trips to symbolic cities such World Heritage sites as Toledo and Segovia.

Assessment:
15% - Attendance
25% - Participation in class and in the companies' visits.
30% - Exposition in class. Preparation for the company visits. Case studies.
30% - Final case presentation
Program Directors & Staff
Maria (Marilís) Mediavilla, Department of Spanish and Portuguese Studies, Program Director
Marilís Mediavilla is a Spanish Lecturer at the University of Washington (UW), Seattle, where she has taught since 2006. Born and raised in Spain, where she received her BA-equivalent in English Philology from Universidad de Valladolid, and a HR certificate by EOI (Madrid), Mediavilla moved to Boston in 2004 where she received a certificate in management by the Harvard Extensions School. She taught at the University of Massachusetts for two years before moving to Seattle. Her experience at UW ranges from teaching intermediate and advanced Spanish language to both native English students and Spanish heritage learners to teaching a business Spanish class. Moreover, she is the CISB Spanish Track Advisor at the Foster School of Business. She has study abroad experience through leading this same program since 2017, being a program director of the SPS program in Quito, Ecuador during the Winter 2018 term, and the SPS program in León, Spain in Autumn 2018.  She may be reached at marilism@uw.edu.
Kallie Sandell, Department of Spanish and Portuguese Studies, Predoctoral Instructor
Kallie Sandell is a Predoctoral Instructor of Spanish at UW and a first-year master's student in the department of Spanish and Portuguese Studies. After receiving her BA in Spanish for Business and Organizational Communication from the University of Wisconsin-Eau Claire, she moved to Spain and worked in four different public schools during three academic years, aiding in various English and bilingual classes. Prior to coming to UW, Kallie worked in non-profit development and has experience in fundraising, donor relations, marketing, event planning, and volunteer recruitment. Now, she is focused on continuing her education in literature and pedagogy. She may be reached at ksandell@uw.edu. 
Information Session
The informational session for the program is Thursday, January 31st at 4:30 in Savery 162.


Program Expenses
Costs:
Estimated Program Fee of $4,000, the UW Study Abroad Fee ($450), airfare, food (about $15/day), UW Study Abroad Insurance ($62/month), other health expenses/immunizations and personal spending money.
Average Airplane Ticket Price
$1,500 round-trip (subject to when & where you buy your ticket), airfare is not included in the program fee, students must book their own flights to and from Spain.
Orientation
To be eligible to study abroad, all program participants must attend an in-person pre-departure orientation facilitated by the Study Abroad office as well as your program-specific orientations, offered by your program director.
You must register for orientation through your online study abroad account in order to attend scheduled orientations. You can visit the Orientation section of our website to view the current orientation schedule.
Orientation must be completed prior to the enrollment deadline for the quarter that you are studying abroad.
Financial Aid and Scholarships
Most forms of financial aid can be applied to study abroad. You can verify that your financial aid award will apply to your program costs by contacting the Financial Aid Office. Financial aid or scholarships awarded as tuition waivers or tuition exemptions might not apply so you will need to verify that these funds are eligible for use with study abroad by contacting the funding office.
Financial aid and most scholarships are disbursed according to the UW academic calendar (at the beginning of the quarter). If your program starts before the start of the UW quarter, your financial aid will not be available to you prior to your departure. If your program starts after the first day of the quarter, your financial aid will be disbursed at the start of the program. In either of these cases, you will have to finance any upfront costs such as airfare, health insurance and the start of your time abroad on your own. Please take this into consideration when you are making plans.
Visas
UW Study Abroad is not responsible for obtaining visas for study abroad program participants. The cost and requirements for obtaining visas vary. It is your responsibility to determine visa requirements for all countries you plan to visit while abroad including countries that you plan to visit before or after your study abroad program. Applicants may receive visa information in their online accounts once they are accepted to the program.
Note: If you are not a U.S. citizen, consult the embassy or consulate of the countries you will visit to learn their document requirements. You can check the following website to find contact information for the consulate of the country you will be visiting: http://www.state.gov/s/cpr/rls/fco/index.htm

For non-U.S. citizens, the procedures that you will need to follow may be different than those for U.S. citizens. It is important to initiate this process as soon as possible in order to assemble documents and allow time for lengthy procedures.
Disability Accommodations
The University of Washington is committed to providing access and reasonable accommodation in its services, programs, activities, and education for individuals with disabilities. To request disability accommodation for this program, contact Disability Resources for Students at least 8 weeks in advance of your departure date. Contact info at disability.uw.edu.
Application Process and Details
For the application for this program, visit the program page on the UW Study Abroad website at the link below. 
The application includes a Personal Statement, three short answer questions, two recommendations from a professor or TA, and electronic signature documents related to UW policies and expectations for study abroad. Following the on-line application process students will be contacted by the Program Director for an in-person interview. Once an admission decision has been made regarding your application, you will be notified by the study abroad system via email.
Complete Program Information: