Submitted by
Casey Colvin
on February 20, 2015 - 9:15am
ALUMNI SPOTLIGHT | David William Foster
By Irene Panke Hopkins
Distinguished Alumnus, David William Foster, is the 2014 recipient of the Victoria Urbano Academic Achievement Award. This lifetime achievement award recognizes Foster's dedicated work in the field of feminist and gender studies and their impact on Hispanic society and culture. He is the first male recipient in the award's 30-year history.
"On my first day of class at UW in October of 1958," he said, "when I was 18 years old, I was shocked to learn that a female classmate in her mid-30's had been sneaking out of her house to attend classes because her husband would not allow her to go to school. That was a determinant moment in my pursuit of gender studies," explained Foster. "In six years, from entering UW to obtaining my PhD, I had only one woman professor. There were several gay and lesbian professors in the University community and there was information available but no classroom context or research."
"Receiving this award signals the way in which feminist and gender studies have become a vast enough intellectual and cultural undertaking that we needn't think of it as something just women do," said Foster. "Similarly," he added, "Queer studies are not something just gays and lesbians do." Foster has worked to demonstrate that both areas of study are central to a post-modern consciousness of lived human experience. "They interrelate with all aspects of our social existence," he said.
There are many levels to Foster's research and interest in feminism and gender studies. "In Latin America," he explained, "there is the added dimension of a history of military tyranny which has intersected with social institutions and contributed negatively to the quality of human life. Argentina, which experienced one of the worst neo-fascist, anti-human rights, military dictatorships (1976-83) became the first country to defend same sex gender equality in marriage and adoption, signaling to the world its return to constitutional democracy in 1983." It is on these deeper levels that Foster has been involved in international debates regarding social and personal conflicts and restoration of the dignity of human life, as well as writing about cultural production relevant to these issues. "We have to take issues of humanities to the public arena," said Foster. "We have to convince our fellow citizens that the humanities have something to contribute to the debate over public policy issues and can provide perspective on solving pending social and political issues."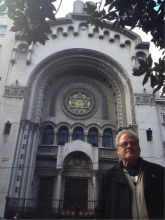 Foster attended the University of Washington from 1958 to 1964 during which time he earned an undergraduate degree in Spanish, a masters in Spanish and Romance Linguistics and a PhD in Romance Languages and Literature. "I am very pleased to know that the University of Washington's PhD program, which somehow lost legitimacy along the way, has been reestablished," said Foster. "The PhD program of the past produced many scholars of repute," he added. "In its former life, the program had the structure and resources to prepare and enable me to pursue the career I have."
Currently in his 49th year at Arizona State University, Foster is a Regents' Professor of Spanish and Women's and Gender Studies in the School of International Letters and Cultures. He has taught and lectured all over the United States, South America and Mexico, authored more than 50 books and completed countless articles, translations, and papers. "It's a pathological obsession," laughed Foster describing the pursuit of scholarly writing.  He currently has two books under editorial review, one on Mexican American urban photography and another on Latin American graphic narrative.
 Foster's research centers mainly on urban culture in Latin America with emphases on gender and sexual identity, women's history and Jewish culture. His interest in Jewish studies stems from his desire to accurately present Latin American society as more complex and diverse than the prevailing American impression: a mestizo, Spanish speaking, Catholic-centered society. Buenos Aires, for example, is a major Jewish center, both in its size and its influence on all aspects of social, political and cultural life in Argentina.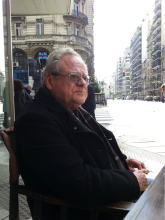 In 2005, Foster established the David William Foster Fund, which supports advanced language training for one graduate student each year in Oaxaca, Mexico. "During my six years at UW, I received unstinting, unwavering support from the department," said Foster. "I could never have completed my program of studies without the support and assistance I received, both from the University of Washington and various scholarship sources," explained Foster, "and I vowed to give back when I was in a financial position to do so." Foster worked with then-chair, Anthony Geist, to establish this fund and intends to increase it for the PhD program. "This is a long-term commitment," said Foster who has also set up several funds at ASU, "and an opportunity to make a large impact."
In an article in the Arizona State University news regarding Foster's receipt of the Victoria Urbano Award, George Justice, dean of humanities in the College of Liberal Arts and Sciences described Foster as "one of the leading humanists at ASU, and, indeed, a national leader in the study of Latin American literature and culture."  Praising his generosity with students and members of the local community, Justice is quoted as saying of Foster, " He is internationally famous, but locally engaged."
While waiting for his two books to be published, Foster is lecturing, teaching and catching up on reading as well as pursuing his hobby: urban photography. The cover of his recently published book, Glimpses of Phoenix: The Desert Metropolis in Written and Visual Media includes a number of Foster's photographs. "That is what I do to relax!" he said.