Submitted by
Gabriela Pirralho
on November 19, 2014 - 11:18am
Study Abroad
During this summer's Study Abroad Program in Quito, Ecuador, students had the opportunity to visit several sites outside of Quito. The trips, chosen for their compatibility with Program Director, Jorge González's intent to expose students to a variety of experiences in Ecuador, proved to be eye-openers for students. 
Baños, a four-hour drive from Quito, and at a lower elevation, is known for its astonishing natural beauty and extreme sports activities. Smaller and more compact than Quito, tourism is a primary industry and locals run many of the tourist activities.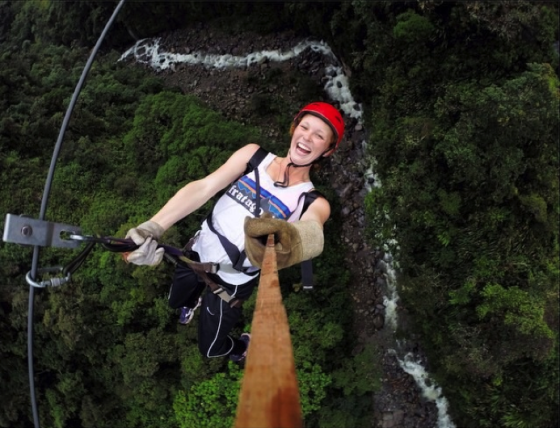 "Baños was a great experience," said sophomore, Rachel Urban, Spanish minor; Political Science and Psychology major. "I absolutely loved the extreme sports including zip lining, swing jumping, and especially canyoning. I also enjoyed staying in the little hotel, trying cuy (guinea pig!) and meeting locals. I feel like I really got to see a different part of Ecuador." 
Junior, Maira Ruiz, agrees. "Baños was the most exciting and memorable day of the trip. Far from teaching me subjects that can be taught in the classroom, this trip gave me the opportunity to develop as a person. In Baños I tested my strength and defied gravity by going white water rafting for the first time ever and jumping off a bridge that is 100 meters over the river. They both taught me that I am capable of conquering my biggest fears."
Another trip was to Mitad del Mundo, the site of the equator. Initially miscalculated, the equator actually stands 240 meters north of the statue marking the site, a fact students found amusing, according to Lani Phillips, Director of Program Development and Administrator of UW León Center, who accompanied the students to Ecuador.Students, given exercises to test the gravitational challenges of straddling hemispheres, found walking in a straight line with their eyes closed impossible. Balancing an egg was equally impossible, "except by the tour guide!" said Phillips. In strength tests, students discovered that they were weaker when standing on the equator than they were just a few feet north or south.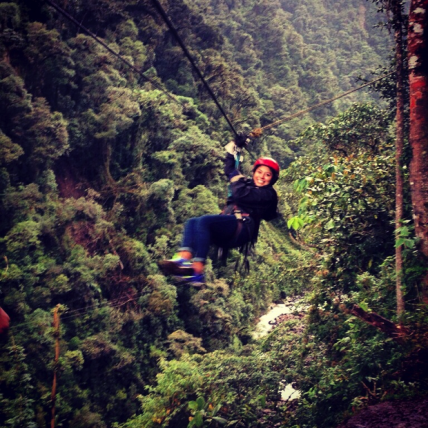 "In Mitad del Mundo I discovered more about Ecuador's indigenous people," said Ruiz, a junior, majoring in Spanish and Business Administration. Being at the equator and experimenting with the gravitational pull was fascinating for Ruiz. "It was extremely difficult to walk in a straight-line on the equator!"
"Overall both of these cities were far beyond my expectations," said Ruiz. "I fell in love with all of Ecuador and its geographical location."
Ecuador: The Meeting of Cultures Study Abroad program is in its eleventh year and is open to undergraduate, graduate and non-matriculated students. Applications are generally due between March and April of the program year. Interested students should contact Jorge González (panta@uw.edu) for information on the 2015 summer program.
Article by Irene Hopkins