Submitted by
Gabriela Pirralho
on November 19, 2014 - 10:33am
Staff Spotlight: Leigh Beckley
Leigh Beckley, Administrator for Spanish & Portuguese Studies, may be a new face in the department, but she has been at UW long enough to describe herself as "a lifer."
Beckley comes to SPS after one year with the Division of Cardiology and, prior to that, eight years in the Department of Pediatrics. But that doesn't even begin to cover Beckley's history with the UW.
Beckley, who grew up in Kennewick, a small town in eastern Washington, received her BFA in Art from UW in 1997. "My personnel record at UW goes back to 1994 when I was a student, working in Housing and Food Services," she said.
 "My parents drilled it into me that working for the State would provide security and benefits," said Beckley. "I listened and, after graduation, joined UW Temp Services." A variety of temp jobs led to a permanent position in President McCormick's Government Relations Office where she worked for five years.
Beckley's parents weren't the only ones happy about her direction. "UW is home," reflected Beckley who married her college sweetheart.  The couple holds season tickets to the Huskies and the Seattle Opera. "I love it here." By her mid-30's Beckley was fully vested and providing health insurance for her two children.
More than the security, though, Beckley said, "I believe in the mission of the UW, which I learn more about every day." Beckley likes working behind the scenes to support and promote that mission. "The scope of UW's impact on the region and the world is enormous," she said. "The research being done by the School of Medicine is saving lives. And," she added, "is there anything greater than education?"
When Beckley's children, now twelve and seven, began school, she felt free to focus on her future. "After meeting Linda Nelson, Director of Finance and Administration for the College of Arts & Sciences, I knew I wanted to be on her team," said Beckley, "wherever that took me."  Then she interviewed for the Administrator position with Ana Gomez Bravo, Chair of Spanish & Portuguese. "I was very impressed with Ana and knew we would work well together," said Beckley.
"As a graduate of Arts & Sciences this feels like coming home," laughed Beckley who pointed out that her old dorm, Haggett Hall, is two buildings away and one of her floor-mates works just down the hall.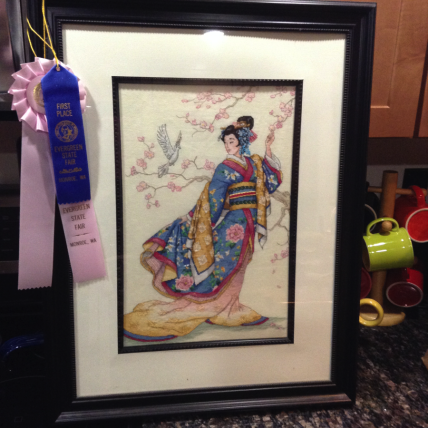 "Working here has exceeded my wildest dreams," said Beckley. "I keep thinking they are going to come in and say 'this has been a mistake!'" As Administrator, Beckley oversees the financial, human resources and operational facility operations of the department. "Everyone has been welcoming and helpful," she said. "The atmosphere is exceptionally collegial and comfortable."
 As for that Art degree…  "I am still creative," said Beckley who sews and cooks and makes homemade bath balms and soap. But when she talks about her true passion, she gets excited. "I am an obsessive/compulsive cross-stitcher!" she said unapologetically. 
Beckley spends years on complex pieces, entering them in the Evergreen State Fair, winning a prize every time. "Big rosettes!" said Beckley with satisfaction. "Crafting is huge right now with Etsy, Pinterest, and other social media sights. There are amazing patterns available." Her current project is a cross-stitched Periodic Table of the Elements. 
"I am so happy to be here," said Beckley. "I've been around long enough to know when I see a good thing. And this is a good thing. I am very grateful."
Article by Irene Hopkins.