Submitted by
Holly J Winters
on February 21, 2014 - 2:23pm
The sun is shining as students make their way through a market town just north of Quito. The night before they were dancing in circles with hundreds of indigenous Otavaleños as a local band played various versions of the popular San Juanito tunes.
Phillip Markley, Ph.D., Lecturer and Executive Director of the Winter Quito Ecuador Program, answered a call from the Chair five years ago to begin a program in South America. "From the beginning I wanted a program that was academic in nature, included participation in the community, and allowed students enough freedom to explore Ecuador," he said. "Involvement in the community is very important which is why I made Service Learning a required part of the Quito experience. Students can get to know local people and give back to the community by volunteering in places such as senior centers, non-profits or schools – all under the close supervision of the local Service Learning Coordinator."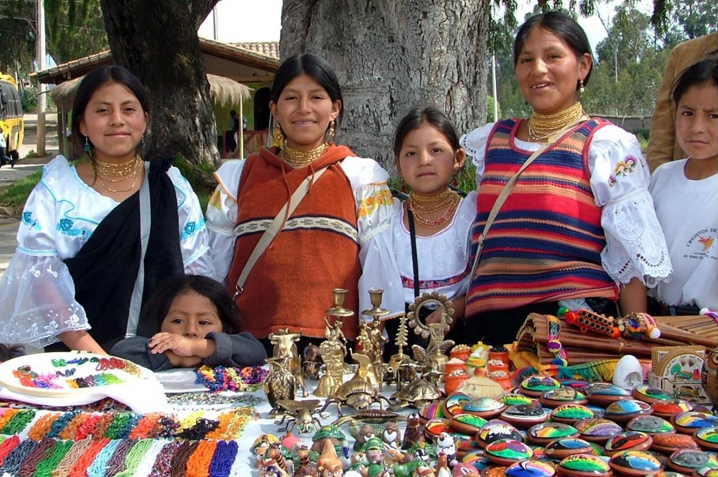 Markley chose Quito, Ecuador because of his positive experience as a Fulbright scholar in Ecuador in the 1980's. The connections he made at that time enabled him to create the present academic program.
Students take classes in the Andean Center for Latin American Studies, a non-profit organization begun by Dr. Fernando Miño, who has a Ph.D. from Georgetown University in Washington D.C. "He is an old friend, a well known scholar and the Local Director of our program in Quito," said Markley. "Fernando maintains a high quality of education and is always working to improve the overall effectiveness of the teaching."
The courses taught are a bridge between the 200 and 300 levels in Spanish. "Fernando and I go over student progress every year," said Markley who added that when the Miños' visit UW in the spring, they meet with María Gillman, Principal Lecturer and 300 Level Coordinator. The coursework follows the same curriculum as the courses at the University of Washington; however, many of the readings are framed around Ecuadorian literary and cultural works along with current events in Ecuador. "From years of teaching and observing students I think being able to speak Spanish and express new ideas in Spanish on a daily basis is an invaluable experience for all of the students," reflected Markley. 
Students live with Ecuadorian families and only one student is assigned to each family in order give the student more opportunities to speak Spanish in a familiar setting.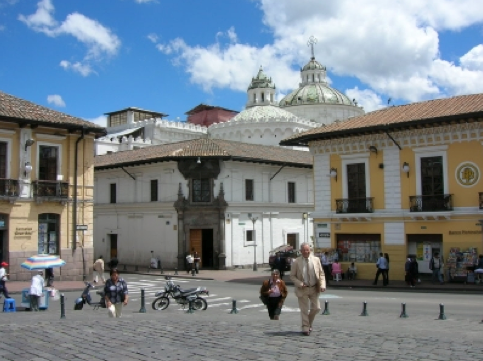 San Francisco plaza, Quito
Included in the program activities, for the second time, is the "Ciclopaseo." Ciclopaseo has sprung up from Quiteños efforts to take back their city from car traffic, not unlike Seattle. On Sundays, the main street in Quito, Amazonas street (a very long avenue running the length of the city), is closed to car traffic and only bikers and pedestrians are allowed. It goes for many miles from the old airport, which is now a park, all the way to the old colonial city. Colonial Quito was designated a UNESCO World Heritage site in 1997 and recently underwent an extensive renovation which was completed in 2007. Biking with friends and family is a great way to see this newly restored colonial city! And of course practicing Spanish is always a component of these activities so host families and Ecuadorian friends are invited to ride along. It is another way of community building while seeing the city and enjoying Quito.
The program has traditionally attracted a number of different kinds of students. "We have students who want to major in Spanish, others who want only a minor," said Markley. "Some students are near the end of their university studies while others are just beginning. We have also had a number of non-traditional students in their 50s and 60s come along." The one commonality is that everyone wants to learn Spanish, get to know Ecuadorian culture and feel like they are part of a Spanish speaking community.
Applications for the Winter Quito Ecuador Program are generally due in May or June and the students leave the following January for Quito. Interested students should contact Phillip Markley for information on the 2015 program.
Click HERE to return to Newsletter | Winter 2014