Submitted by
Holly J Winters
on November 6, 2013 - 3:49pm
Congratulations are in order! The Center for Spanish Studies is this year's recipient of the Washington Association for Language Teachers (WAFLT) "Public Awareness" award, which was presented at the annual WAFLT conference in Yakima in early October. The Center for Spanish Studies was recognized for its continuous and sustained support of Spanish Programs and all things Spanish within the education system. Eva González-Abad, Director of the Center, gave special mention to María Gillman, Lecturer and Third Year Spanish Coordinator, who works as a liaison between the Center and the Division of Spanish and Portuguese Studies. González-Abad also acknowledged the support of the Division, OSPI, the Honorary Consul of Spain in Seattle, as well as the office of the Lieutenant Governor of the State of Washington for helping to make this award a reality. Kudos all around!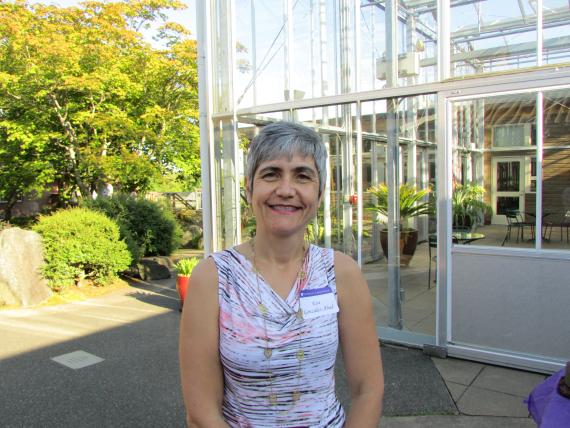 Eva González-Abad, director of the Center for Spanish Studies
The UW's Center for Spanish Studies, one of fifteen in the U.S. and Canada, is a cooperative venture between the University of Washington, the Spanish Ministry of Education and the Office of the Superintendent of Public Education. Located in Padelford Hall, Room B-202C, the Center's purpose is to promote and support programs that teach Spanish to K-12 students in both public and private schools.
Here are just a few examples of activities sponsored and made possible by the Center:
A visiting teacher from Spain is teaching at Chief Sealth High School this year, a first for the Seattle schools. Pedro López Chaves is participating in a pilot program the school is offering to its Spanish-speaking children and is teaching Spanish and Social Studies in Spanish.
The Center offered two free professional development opportunities for teachers of Spanish in the State of Washington. The first, which was on October 26presented the use of Fine Arts in Spanish class. The second, to be held on November 16, will offer an opportunity to work on techniques associated with Creative Writing in the Spanish class. Sessions are offered in Spanish and held on UW's Seattle campus, from 9:00 a.m. to 1:00 p.m. Email spnretcr@uw.edu to sign up for the November seminar.
The Center will launch a new edition of its well-known school contest "Escribo en Español" in November 2013. The 15th edition in 2013 was a success, and the awards ceremony was a great occasion for students, teachers and family members to enjoy an afternoon together celebrating Spanish.
January 2014 begins the process for juniors, seniors and graduate students to apply for the Cultural Ambassador program. (More information available on the program website.) Candidates who obtain a position will use their native English-speaking skills in schools throughout Spain to help in English classes during the entire school year. In 2013 – 2014, over 2,000 candidates were placed in different schools in Spain. Contact spnrectr@us.edu to learn more about this fabulous opportunity.
2014 Winter and Spring free professional development opportunities for teachers of Spanish will include a session on Spanish speakers as heritage language speakers; a presentation on how to use clips from TV series to teach Spanish; and more to be determined. Be on the lookout for news through our e-mail list, our webpage and social media.
Be sure to check out the Resource Center's bibliographic and video graphic materials as well as novels and books on teaching, traveling and Spanish culture. According to the UW Center's Director, Eva González-Abad, anyone interested in the Spanish language and Hispanic cultures can borrow materials from the Resource Center. "No card required!" she laughed.