Submitted by
Arts & Sciences Web Team
on May 29, 2013 - 12:35pm
Ecuador: The Meeting of Cultures
Sixteen students are packing their bags and preparing to spend four weeks in Quito, Ecuador this summer. UW's Quito Study Abroad program is in its tenth year and is open to undergraduate, graduate and non-matriculated students.

Jorge González, Lecturer and General Director of the Quito Program, responded ten years ago to the Dean's offer to faculty to start a study abroad program anywhere they thought would be of value to students. "My intention in choosing Ecuador," explained González, "was to expose students to what it means to be in a Mestizo country and to learn how the combination of European and indigenous blood, language, culture and religion manifests in modern society." Thus his decision to call the Program: Ecuador, the Meeting of Cultures. González mentioned that Ecuador is small enough to allow students to experience several areas in the short time they are there.

Students will attend Escuela Equinoccial, a private language institute in Quito. They will spend two hours a day on grammar review and conversational Spanish. Three times a week the students take a one-hour salsa lesson and once a week they visit a place of interest in Quito. In keeping with González' mission for the program, they will visit the Museo del Banco Central, a history museum that examines the pre-Incan societies of Ecuador. "People associate Peru and Ecuador with Incan civilization," said González," but the Incas came to Ecuador only 75 years before the Spanish conquest."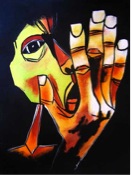 "The Scream"
by Oswaldo Guayasamín
Students will also visit La Capilla del Hombre, a museum dedicated to the art of Oswaldo Guayasamín, one of Ecuador's foremost painters. "Guayasamín paints about people who suffer from exploitation, such as the Bolivian miners, war, such as the Spanish Civil War, and dictatorships," said González. "The museum, as its name implies, is an homage to human suffering."

Excursions outside Quito include trips to Baños and Otavalo, a market town.

Home stays are arranged through the IPE (UW's International Program Exchange Office). Students stay with families in Quito who live walking distance or a short bus ride away from the school. Spanish is spoken exclusively in the home and students' language skills benefit from a total immersion experience as well as cultural exposure to food, cooking, and family life. González accompanies students every other year, alternating with other instructors. This year María Gillman, Principal Lecturer will join him in leading the program. "Any foreign country experience is valuable to students in gaining perspective on how different cultures can be," noted González who has been with the UW since 1989. "Family relations, the way they eat, talk and express themselves through language can only be learned by immersing oneself in a culture and country." As one who came to the U.S. from Mexico, González understands this phenomenon well. "I had a lot of false ideas about the U.S. culture that were dispelled after living here for a couple years," he stated. "I also learned that my cultural assumptions from Mexico did not always apply here." Applications are generally due between March and April of the program year. Interested students should contact Jorge González for information on the 2014 summer program.